Card games are massively popular all over the planet, and we all have our favorite games that we love to play. In fact, you can easily find them in almost any live casino online
.
So, which are best for playing over the internet right now? If you're looking for online casino games
with cards and want to try something new, what options should you look at to begin with?
Blackjack
You've probably already played blackjack at some point, as this is described as being the most widely-played casino banking game in the world. Even if you've never played blackjack in a casino, you might have played with family or friends, as it's also one of the most popular card games for home play. All of the versions give you the challenge of getting as close to 21 as possible, without going over this number.
The first choice you'll see in an online casino is whether to play it with a live human dealer or on a computer-generated table. There is generally no major difference in the rules, so it really comes down to the presentation that you like the most. Some people find that the live blackjack versions in genuine casino settings add to the excitement, while others prefer the simplicity of a virtual table.
The different versions of blackjack that you'll find online tend to use very similar rules as well. For example, the American and European versions are very similar, with none of the major differences that we can see in the different variants of games like roulette.
One area to look out for is the presence of side bets. If you enjoy playing these bets, you'll find that some blackjack games have the likes of Perfect Pairs or 21+3, which pay more than the main game but generally payout less frequently.
Your best chance of winning at blackjack is by understanding basic strategy. This is one of the few casino games
where the outcome doesn't just come down to luck, as you get to decide whether to hit or stand, as well as having the option of doubling down or splitting the hand.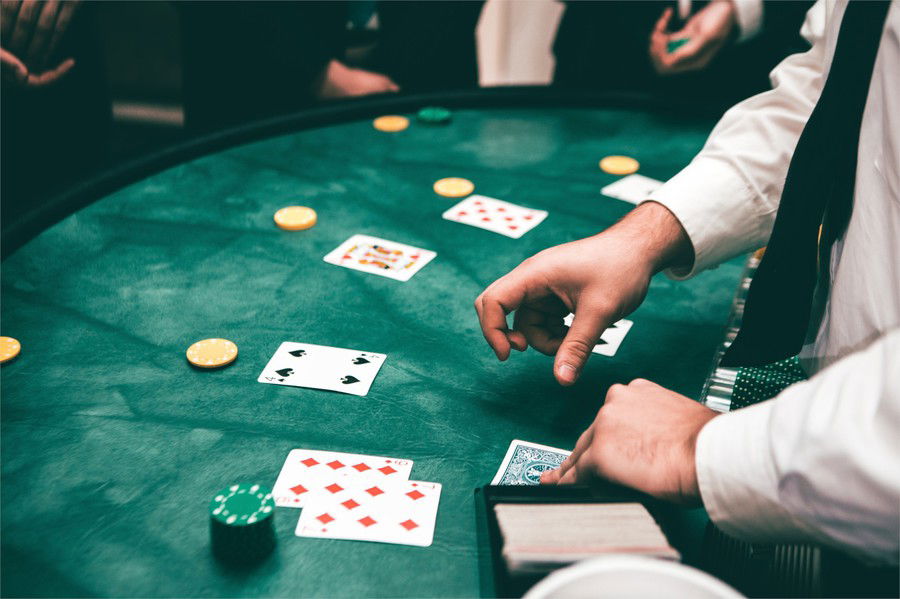 Baccarat
A simple but satisfying game of chance, baccarat is a game with a long history
, and it's about predicting whether you think the Banker's hand or Player's hand will get closer to a total of 9. This game can end in a tie, which is less commonly seen but gives you a bigger payout than you would get from either of the hands wins.
As with blackjack, there are several versions of blackjack found in good online casinos, but the basic gameplay doesn't vary much. Live dealer and virtual versions let you choose the type of presentation you prefer, but you won't see vastly different rules in different games.
The side bets you'll find include Perfect Pairs and Big/Small. As with blackjack, these are optional bets that add some spice to the game and give the possibility for bigger wins than in the main game. Baccarat was known before as a game for high-rollers, but online play now lets anyone set the level of stake they're comfortable with.
You might see Dragon Tiger too, which is basically a simple version of baccarat with just one card given to each hand instead of two. This game is typically seen in an Asian-style setting and gives a fast, enjoyable alternative when you're short of time for a more complicated card game.
Video Poker
Poker can be played in casinos, with games where you play against the dealer most common. However, a lot of players like the fast pace and simple layout of video poker, which is one of the games with the lowest house edge too.
The idea here is to try and form a winning poker hand from the cards dealt to you, with the option of discarding some and replacing them with others. There is no rival hand to beat here, as you automatically win if your best combination is on the paytable, with the likes of a royal flush and straight among the best-paying hands.
Rather than being a single game, video poker is a category that has different games like Joker Poker, Jacks or Better, and so on. Each of these variants has different rules that make it easier or more difficult for you to win.
Other Card Games to Look Out For
As online casinos
become ever more diverse, we've seen games like Caribbean Stud Poker, Andar Bahar, Teen Patti, and Pai Gow Poker all added to the classic options. This means that anyone looking to enjoy a card game can do so at any time and in some very different ways.
As the market continues to grow, we can expect to see more card games based on other games that are popular around the world
. This means that it's a great way to find new games you'll love, as well as old favorites that you want to play again and again.