Games such as slots and roulette rely heavily on luck, whereas poker and other card games require a mixture of luck, skill and strategy. This makes them a popular choice for punters who enjoy both a sense of challenge and competition. In this article, we're going to take a deeper look at three of the most popular online casino card games.
How to choose an online casino?
Before we get started, it's important that you choose the right online casino platform for you. Make sure to thoroughly research the site to ensure that they offer payment options, bonuses, and a catalog of games that suit you. According to a recent study in Ontario
, games created by Microgaming and Evolution Gaming are some of the best in the industry, as they create games with great visuals, exciting features, and smooth functionality. Most top casino platforms will offer games created by these two companies. Once you've signed up for your casino site of choice, it's time to get playing!
Poker
Poker is one of the most loved card games around, with millions of fans worldwide. For most fans, it's the combination of strategy and risk that makes this game so popular. In fact, this element of poker is so appealing that learning poker is a recommended way to learn about risk management
. The goal of the game is to try to collect a selection of cards that will allow you to form the best hand possible. Bluffing is a big part of this game, as it's an opportunity to make a profitable bet. 
There are different forms of poker, but the most popular are:
Texas Hold'em
Omaha Hi & Hi/Lo
5-Card draw
7-Card stud
Texas Hold'em is by far the most popular version. When choosing which site to play poker on, make sure to choose one that supports mobile gaming. This means you don't need to fire up a laptop or desktop whenever you fancy a game.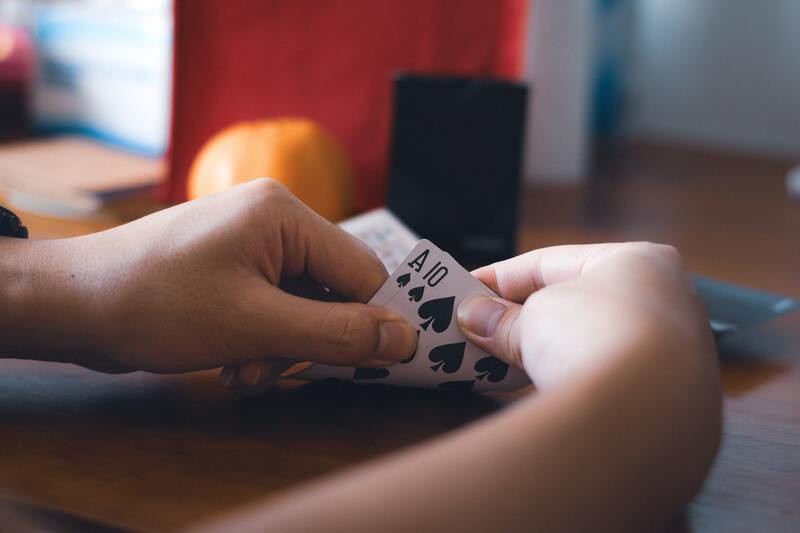 Blackjack
The rules of blackjack are quite simple, all you must do is try to beat the dealer. The total of your cards needs to be 21, or as close as possible, without exceeding it. If you exceed 21, you'll go bust. When the dealer deals the cards, you can decide whether to "stand" and stick with your numbers or "hit" and take another card. The main strategy here is to never take a card if there's a chance you might go bust. 
Baccarat
This card game arrived in France from Italy during the reign of Charles VIII, and there are three accepted versions: Baccarat Banque, Punto Banco, and Chemin de Fer. Although the rules of Baccarat
can look confusing at first, it's relatively simple to get the hang of, and it's actually an easy and slow-paced game with three possible outcomes: player win, banker win, and tie.
The three card games above are available to play on most online casino platforms, but remember to have a look at a site's catalog of games before you sign up to make sure you're not disappointed.