For sure, it is very frustrating getting a skin and being disappointed with it, and at the same time it is very annoying to research all the skins to see which one is better to get. As a result, I brought a compilation of the best looks for each Valorant weapon!
Best Valorant Skins in 2023
Knives
Let's start out by Knives. They are usually expensive (so don't be scared), but they will always be with you, as they are impossible to drop.
RGX 11z Pro Blade
When you think of knives or blades, is there something cooler than a Katana? The RGX Pro Blade is nothing more than a fantastic Katana for you to cut down your opponents!
It is a bit expensive, but in fact, knife VFXs have always had high prices in FPS games.
Price: 4350 Valorant Points (VPs)
Check out a video of this beauty!
Reaver Karambit
Karambits have always been stylish, and Reaver certainly will surprise you. If you're not a fan of Katanas, this will be the best choice for you!
Price: 4350 VPs
Check out some of its Level 2 effects:
Classic
Let's move on to the most basic pistol, Classic, a common staple of First Rounds as it's free. So, a Classic skin is usually worth it!
Spectrum Classic
I literally love this skin — besides beautiful, it plays a song if it's level 2, just press "Y" (the short key to showcase your weapon). It is already cheaper than knives!
Price: 2675 VPs
Check out the video below for the effects and music this look offers you:
Glitchpop Classic
If you didn't like Spectrum, and you're looking for something more colorful and attention-grabbing, or just want a cheaper option, I recommend Glitchpop. It is beautiful and has a more accessible price.
Price: 2175 VPs
Shorty
Prelude to Chaos Shorty
For me, the best look for Shorty by far is Prelude to Chaos. The weapon is black with purple highlights, and from a certain level onward it has a sensational finish effect.
Price: 2175 VPs
Frenzy
Elderflame Frenzy
How about a Dragon perched on a weapon, shooting fire? That's what Frenzy's Elderflame skin offers you! Quite uncommon, but it's very beautiful, check it out in the video below:
Price: 2475 VPs
Ghost
Gaia's Vengeance Ghost
Gaia's Vengeance Ghost has branches that give it a tree aspect for this weapon. This skin also offers wonderful sound effects, besides a beautiful finish from level 4 onwards!
Price: 1775 VPs
Sheriff
ChronoVoid Sheriff
In case you like more futuristic themes, you'll probably like ChronoVoid Sheriff. Even the way it recharges has references to something more modern.
Price: 2175 VPs
Note: If you're looking for a cheaper Sheriff skin, I recommend Reaver Sheriff for 1775 VPs.
Stinger
Moving on from Pistols, let's go to the primary weapons, starting with the SMG Stinger!
Prelude to Chaos Stinger
It is from the same line as the Shorty I recommended here, with the same themes and finish.
Price: 2175 VPs
Spectre
Reaver Spectre
Another skin with a beautiful finish is the level 4 Reaver Spectre. It has darker colors and I loved it! Besides being more accessible than other skins that have shown up here.
Price: 1775 VPs
Bucky
Let's talk shotguns!
Prime 2.0 Bucky
Just like ChronoVoid Sheriff, Prime Bucky also represents a more futuristic look, with beautiful sounds and recharging VFX.
However, it has lighter colors, such as gold and white.
Price: 1775 VPs
Judge
Glitchpop Judge
Going back to a more colorful theme, I brought another Glitchpop skin for this weapon, Judge.
Price: 2175 VPs
Bulldog
Moving on from shotguns and going to rifles!
Glitchpop Bulldog
Just like Judge, Bulldog also matches Glitchpop's colors and VFX very well, check it out:
Price: 2175 VPs
Guardian
Gaia's Vengeance Guardian
This skin is from the same line as Ghost's look which was shown here, that one with tree branches around the weapon, remember?
Price: 1775 VPs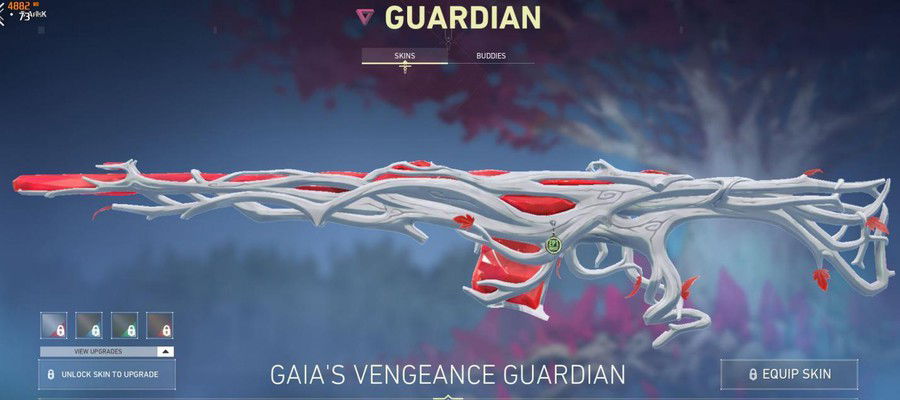 Phantom
Ion Phantom
With a very modern look, Ion Phantom gives your weapon an energized, beam-type effect.
Price: 1775 VPs
Vandal
Prelude to Chaos Vandal
One more look coming from Prelude to Chaos, and now to one of the most popular weapons in all Valorant, Vandal!
Price: 2175 VPs
Marshal
Let's move on to snipers! If you like long-range weapons, check it out!
Gaia's Vengeance Marshal
It might seem repetitive, but there's no ignoring this Gaia's Vengeance skin line. It deserves one more spot in this list, now with Marshal.
Price: 1775 VPs
Operator
Spline Operator
It is unique! It's "curly" traces approach a more exotic style, and I at least found it very original! Check it out:
Price: 1775 VPs
Ares
Let's move on to the last weapon class, the machine guns!
Minima Ares
The cheaper look in our list! Its "square" and minimalistic style matches Ares a lot. But it isn't as attention-grabbing.
Price: 1275 VPs
Odin
The last weapon to complete today's article. To close out beautifully, I will suggest two skins for Odin!
Glitchpop Odin
One of Valorant's most famous skin lines is Glitchpop, and Odin couldn't miss out on it!
Price: 2175 VPs
Reaver Odin
If you don't want Glitchpop, or you're looking for a cheaper look that fits Odin more, consider using Reaver!
Price: 1775 VPs
Final Thoughts
This was today's article! I hope you liked it and found that great skin to buy from the store! If you have a different opinion, you can leave it in the comment section, I'll love to read them and respond to them!
See you next time!