The gambling industry has seen much growth in Canada in recent years. From a growing interest in sports betting to citizens exploring the world of online casinos, playing everything from table games like Blackjack to some of the most popular slot
games.
It's still a tricky subject to navigate through because the legal status of many forms of gambling is still not allowed in certain areas of Canada. But slowly, restrictions are being eased and lifted. Which has seen a growing number of new iGaming businesses setting up in places such as Ontario.
The thing is, there are so many choices of where to go and what to play, that it can be hard to make a decision. But there is one thing you should always look for if you're looking at a site to play on, and that's to check if they are licensed and regulated.
This is because these are deemed to meet the requirements of regulatory bodies in Canada, and are monitored so they don't put customers at risk. So, if you're going to play slots as an example, then make sure you head to somewhere that offers licensed online slots in Canada
.
To help you out, we've put together a list of our five favorite online slot games we've tried at many of the top regulated and legal online casino sites.
Top five slot games
Thunderstruck II
This is a slot that has been around for many years, although not as long as the Norse mythology that it is based on. It is developed by Microgaming and has a Return-to-Player (RTP) of 96.65%, one of the highest in the industry, which is just one factor of why it's such a popular slot game.
The God of Thunder himself, Thor
, takes centre stage in this slot which sees his Mjolnir hammer appearing as a bonus symbol on the game's five reels, activating a free spins bonus round. It may not be as extravagant as some features that other games have, but it's a very simple one to play with, and easy for beginners to get to grips with how slot games work.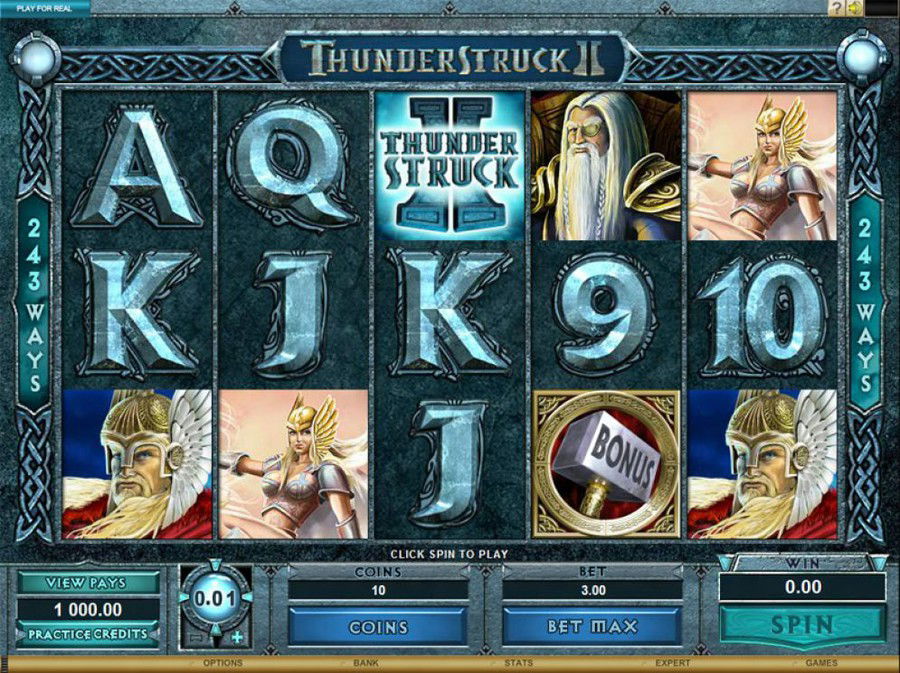 Gonzo's Quest
Released by the popular slot game developer NetEnt, this is another game that has been around for many years, with its original release coming way back in 2010. It is inspired by the Spanish conquistador, Gonzalo Pizarro, who went in search of the famous City of Gold, El Dorado, in the 16th-century.
Its RTP
is slightly lower than that of Thunderstruck II at 95.97%, but it has many more features that can lead to big wins. The main one is the falling reels feature, which rather than spinning traditional reels, sees tiles drop down into place. If you get any tiles on a win line, these then disappear and are replaced with more. This means that you can get multiple wins from one spin, which can also mean bigger payouts.
Break Away
We couldn't talk about slot games in Canada without looking at one based around the popular Canadian sport of Ice Hockey. Usually, we're used to seeing this sport in video games
, but we're now seeing it in the iGaming world thanks to Microgaming.
With an RTP of 96.42%, it has a similar feature to Gonzo's Quest where tiles fall down when win lines are activated to replace old ones. One popular feature we liked when we checked it out was the smashing wilds feature, where a hockey player appears on screen, and snacks into a reel like they would into a player on the ice, which turns the whole reel into wilds. Meaning the potential of a big a good payout.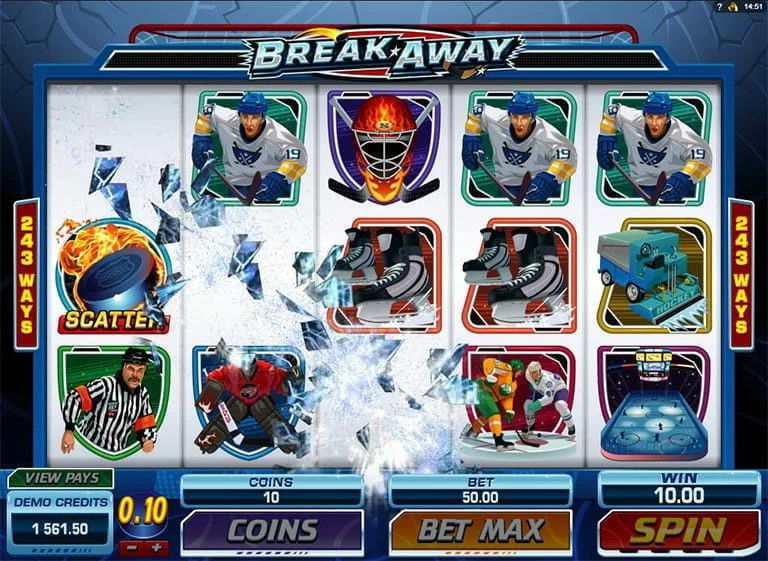 Monopoly Megaways
Monopoly has been around for many many years now, and there are so many different variations of the game, with Monopoly
Megaways being one of the latest. It has an RTP of 96.50%, but this isn't the reason why it is so popular. It's the fact there are a whopping 117,649 ways to win because there are different numbers of tiles that fall into place with each spin across the reels, changing how many win lines there is each time.
It has a whole bunch of features too. There are multipliers, wilds, and again, when one win line is activated, these tiles are then replaced with new ones in order to give you multiple chances to win from a single spin. Add to that the free spin feature you can activate which offers a minimum of eight free spins, with chances to add more, there is potential to earn up to 15,000x your initial stake.
Jackpot Giant
Out of all our top slots so far, Jackpot Giant has the lowest RTP at 94.22%. But it remains a popular one because it comes with a progressive jackpot, where every spin every player makes puts money into a pot, that could be won by any player at any given moment. It has actually offered the biggest single payout of any slot game when it once collected and paid out over $10 million.
Sure, you aren't going to win this every time, in fact, the maximum you can win without the progressive jackpot is just $50,000 but that is still a rather large amount. The main way to hit the jackpot is to get wild symbols right across the board when playing on the max bet value, but there is also an exciting feature too.
Match two bonus symbols on the first and last reel, and you'll be taken away to a bonus game where you will see six volcanoes in front of you. You must then pick three of them, and doing so will reveal a wide array of prizes from cash, extra picks, and even a "win all" prize that gives you everything hidden behind the volcanoes.
Remember to only use legal online casinos
So there you have it, our top five slots to play right now. However, when you do find these games, for your own safety, ensure that you are playing at legal online casino sites that are regulated and have appropriate licenses. You may not lose out when not playing with them, but it is better to eliminate any risk by only using service providers who meet the required standards to operate legally.