Since its launch in 2020, Bons Casino has become a top cryptocurrency casino
and sportsbook. It is managed by NestlingCom Limited with a Curacao license. Although Bons Casino is a newcomer to the online gaming industry, it gained players' respect for good causes. The games' mobile version quality is great and the interface is simple-to-navigate for gamblers. Bons Casino players can access thousands of games, ranging from sports betting to slot machines and table games.
You'll find numerous slots on the Bons casino website. And if you love having fun in the old-fashioned way, there are responsible gaming selections to satisfy your cravings.
The Classic Favorites
Whenever there's a discussion about casino games, everyone loves the classics. They have been tested with time and took their place in people's hearts. After intense research, experts in casino review have provided a Bons Casino Complete User Guide
explaining all the details about these old games to help you win big. Let's see the heart of the site's card game offerings, starting with oh-so-sweet classics.
Blackjack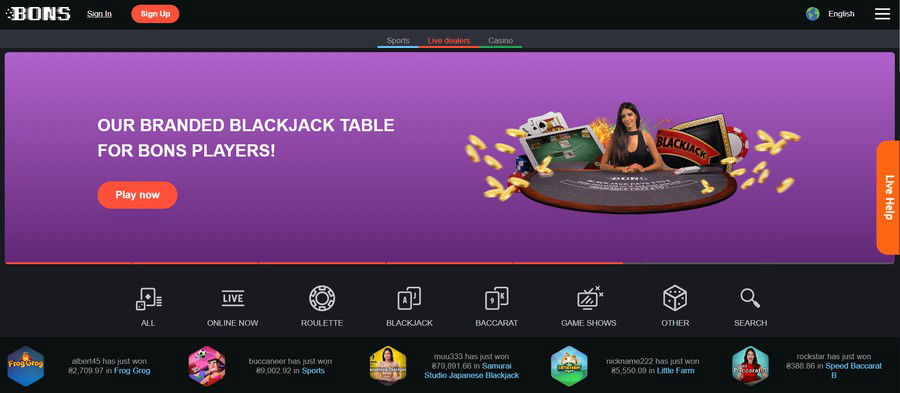 In blackjack, cards numbered 2 to 10 are worth their numerical values. A 2 of hearts is 2 points. A 5 of spades is 5 points. But face cards like your kings, queens, and jacks are all 10 points. Aces can be 1 or 11 points, depending on what's best for you.
You and the dealer get two cards. You can take another card or keep your current total. You must get close to 21 and beat the dealer's total without exceeding 21. You lose once it's above 21, and the dealer laughs last.
Poker
There are different poker types, but having the best cards is always the goal. Usually, a number of cards, five or seven, is dealt depending on the type you're playing. Poker has many rounds where you can bet, check, raise, or fold. Make others think your cards are best even if they aren't. That's bluffing. To win chips or money in poker, you must have the best card combination or make others surrender.
Baccarat
At a baccarat game's beginning, you can wager on the player's hand winning, the banker's hand winning, or a tie. After placing bets, both the player and the banker get two cards.
Like in Blackjack, cards with any number between 2 and 9 are worth their numerical value. But 10s and face cards have 0 value while aces are worth 1 point. Get as close to 9 as possible. If your total goes over 9, the last digit counts as well. So, if it's 5 and a 9 (14), it's worth 4 in Baccarat. The hand closest to 9 wins the game. And if both have the same total and you bet on a tie, you win.
Unique Card Games at Bons Casino
We have listed some popular classics above. However, Bonus Bons casino offers other selections with unique gameplay. Here are a few of them below:
Pai Gow Poker
It mixes poker with an old Chinese game called Pai Gow
. A regular deck of 52 cards is used with a special Joker card. Use the joker as an ace or a wild card to make some special combinations like a straight flush.
Every player and the dealer get seven cards each. You need to arrange these cards into hands, one strong (five cards) and the other not as strong. To win in Pai Gow Poker, both hands must better the dealer's. If only one wins, it's a tie, and you'll be refunded.
Three Card Poker
Each player and the dealer get three cards, so you play your hand against the dealer's or fold, depending on how good it is.
There are six hand rankings in Three Card Poker. A straight flush is the best followed by three of a kind, a straight, a flush, a pair, and a high card.
The dealer shows their hand after. Your hand must better the dealer's to win. Good for you if you have a straight and the dealer only has a pair. You lose if the dealer's hand is better.
Spanish 21
Spanish 21 is like blackjack with some rule changes. Do you still want to get close to 21 but do not exceed it? Here's how it works:
• A regular deck of 52 cards is used but all 10s are taken out, remaining 48 cards. A 10 still counts as 10 in Spanish 21.
• You and the dealer each get two cards, but your cards are face up.
• What's special in Spanish 21 is that you must keep getting cards until you 'stand' to stop, and the total numerical value mustn't exceed 21.
• There's also a "late surrender" option. You can sacrifice half your bet after seeing the dealer's card, so you lose less when things aren't going well.
Live Dealer Card Games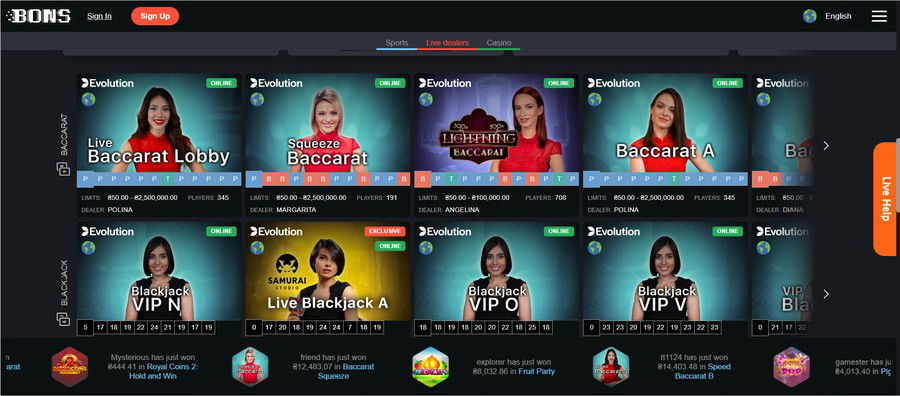 Bons online casino offers Live Dealer Games for a real casino sensation while playing from home. You talk to real professional dealers and other players in real time and enjoy real casino vibes. Here are some live casino games to enjoy:
Live Blackjack
Live Blackjack at Bons Casino is an exciting card game where you play with a real dealer on live video. There will be a virtual table to sit with other players and a human dealer who shares cards and talks to you. The main goal is the same as in the regular blackjack — having a better hand than the dealer without exceeding 21.
Of course, all traditional blackjack rules affect Live Blackjack. The difference is that you get to interact with real people without sacrificing the warmth of your bed.
Live Baccarat
Live Baccarat is another top-notch live dealer card game available at Bons Casino. Seeing and interacting with human dealers and players in real time will give the feeling of goosebumps. The laws guiding Baccarat as we've explained in this article's earlier part are also at play here.
You don't need a strategy whatsoever. Stake on the player's or banker's cards adding up closer to 9. The hand closer to 9 wins so you can gain or lose money depending on your wager. It's a simple and fun game of luck.
Card Game Tournaments
Players at Bons Casino are usually allowed to participate in exciting events and earn big cash prizes. These tournaments help maintain a stimulating and gratifying gaming environment. Bettors should tap "Tournaments" from the burger menu in the screen's upper right corner to find current competitions.
FAQs about Card Games at Bons Casino
What minimum deposit should I pay to play card games?
Although it depends on the live casino games and payment methods, with as low as $20, you can play your favorite games on Bons Casino. But there's no limit to the deposit amount.
Can I play some card games for free?
Bons Casino provides a demo mode for its slots. So try to practice and enjoy games keeping your real money completely safe. But keep in mind that you can't earn using this free version.
Does Bons casino have any bonus for card games?
Yes. There are bonus features for them. Check the website to find out. Besides, Bons Casino welcomes its bettors with a deposit bonus on the first five deposits.