Dota 2 has recently celebrated its 10th birthday since its official release on July 9, 2013. Over its long history, Dota 2 has completed eleven iterations of The International, their prestigious annual tournament where players compete for millions of dollars in front of a Dota 2 live audience.
With such high stakes in each of these matches, some of the greatest moments in Dota 2 history have occurred in TI matches. In this article, we'll review four unforgettable plays in some of the best Dota 2 matches ever. All information and analytical content provided in this article comes from the diligent efforts of the esports platform Tips.GG. You should definitely check out our site here
. And now let's dive into the exciting action of DOTA 2 matches, where the amazing individual skills of professional players were demonstrated.
Six Million Dollar Echo Slam
Every invested Dota player has heard of this voice line, and hearing it again will run shivers down their spine. In the Grand Final of The International 2015, North American squad Evil Geniuses were tasked to defeat Chinese giants CDEC Gaming for their region's first TI win.
Evil Geniuses could lead the series 2-1 in the Best of 5, meaning they would only need to win one more game to immortalize themselves in the Aegis of the Immortal. Game 4 of the series looked dicey for the North Americans, as CDEC picked off SumaiL's Storm Spirit and wanted to extend their advantage by claiming Roshan.
With their Mid-Laner down, it would be foolish for EG to contest Roshan against all five of CDEC's heroes. However, ppd's Ancient Apparition gave vision of what was going on in the pit, where all five CDEC heroes were clumped up.
After ppd shot his Ice Blast, UNiVeRsE's Earthshaker did not hesitate at all and immediately blinked into the middle of the pit and used his Echo Slam in a matter of a second. This incredible combo led to a four-man wipe on the side of CDEC, and shoutcaster TobiWan delivered with his casting, dropping the line: "It's a disaster!"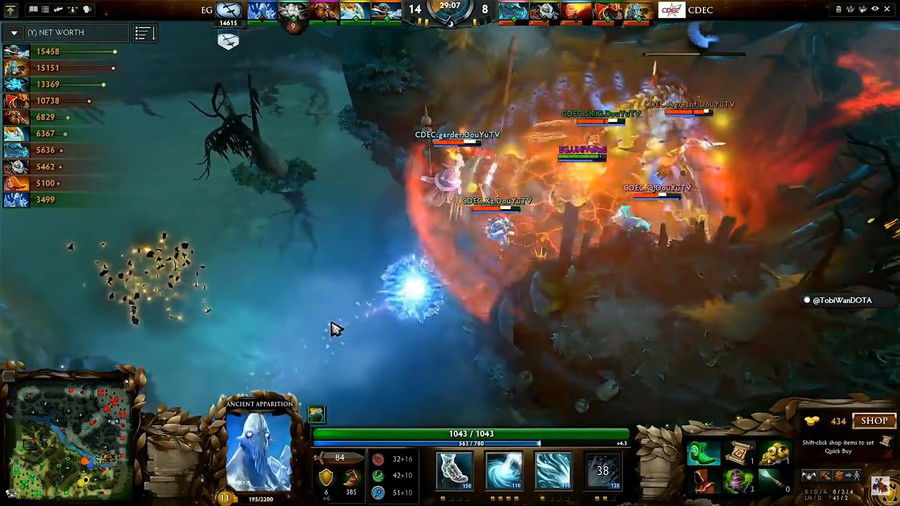 Evil Geniuses were able to claim the Roshan and the game soon after, giving North America their first-ever title at The International after one of the most memorable Dota 2 matches in all of TI.
CEEEEEEB!
Millions of esports fans, non-Dota players included, have heard of OG's Cinderella run in The International 2018, as their TI victory had become one of the greatest stories in all of esports. However, many could argue that OG wouldn't have won the tournament if Ceb didn't make this monumental play.
Unlike EG in Ti5, OG was on the receiving end of being down 1-2 in the Best of 5, and Game 4 wasn't looking too good for the European roster—Chinese team PSG.LGD
was far ahead in the game and was looking to seal it and claim their eleven million dollars from winning first place.
In the 61st minute of Game 4, PSG.LGD took a fantastic fight that looked like it would propel them to end the game. However, they forgot about one X factor, Ceb's Axe. While PSG.LGD was busy trying to kill OG's Carry, Ceb came out of nowhere and landed a three-man Berserker's Call to not only save ana's Phantom Lancer but allow ana to get three kills on PSG. LGD's heroes.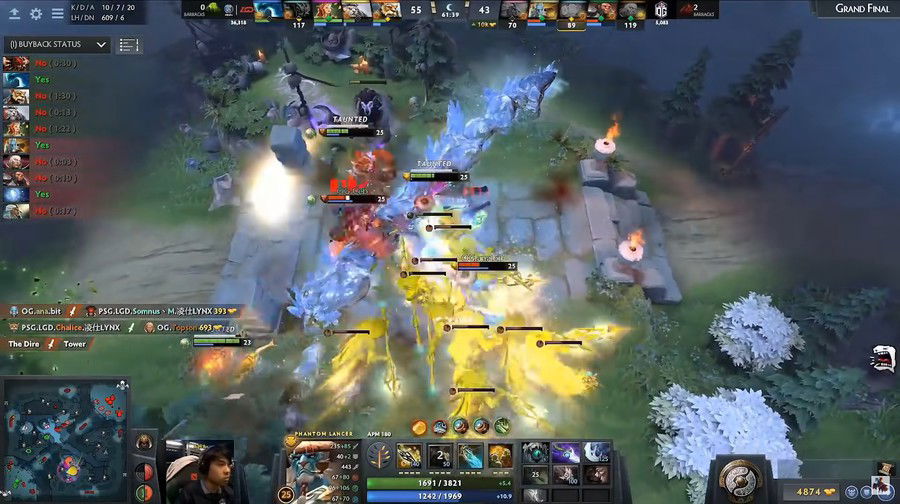 That Axe Call was the game's turning point, and OG could end up winning Game 4 and continue their momentum to win Game 5, completing their miracle run at Ti8.
Fountain Hook
Unlike the rest of this list, the Fountain Hook play isn't a TI-winning play, but that makes it even more special as it can no longer be recreated in Dota 2 matches.
In The International 2013, Natus Vincere faced off against TongFu in the second round of the Upper Bracket. The Dota 2 scores of the series were tied 1-1, and a third game had to be played to decide the winner.
TongFu was off to a great start and had reasonable control over the Mid Game, with Hao's Gyrocopter having many items and the Aegis of the Immortal to boot. It looked perfect for TongFu, and they were ready to convert their lead into a series win.
However, Dendi and Puppey had something up their sleeves. Puppey's Chen had a spell called Test of Faith, which would teleport an ally back to the base when cast on them. The idea is that Puppey would cast this spell onto Dendi's Pudge, and Dendi would hook an enemy as the spell was going to complete, dragging them all the way back to their team's fountain.
Dendi and Puppey used this combo to hook Hao's Gyrocopter to their fountain, killing him and his Aegis life as well. This play turned the game 180 degrees, and Na'Vi won the series, eventually leading them to the Grand Final of Ti3.
Million Dollar Dream Coil
Alliance, a full-Swedish team, was put up against Natus Vincere in the Grand Final of The International 2013
. Natus Vincere had been the most dominant roster at the time, and after having their second TI title stolen from them at Ti2, they were looking to get their redemption at Ti3.
The series went the total distance, all the way to a deciding Game 5. Alliance was sticking to their playbook and abusing the split push strategy, known as "Rat Dota."
At the 43rd minute, Alliance heroes were looking to destroy Na'Vi's towers through the Top Lane. Naturally, the Na'Vi heroes would teleport back to their base to defend their buildings. However, s4's Puck wasn't with the rest of his team - he was looking for bigger things.
Dendi, Na'Vi's Mid Laner, was channeling his Town Portal Scroll to head back to his base, but s4 did not only cancel Dendi's teleportation but also caught Puppey's Enigma. This cancellation meant that Dendi and Puppey could not be there to defend their base for a while.
During their absence, Loda and AdmiralBulldog could kill the remaining Na'Vi heroes. Dendi finally finished his walk back to his base, but it was far too late. S4's Puck bought more than enough time for Alliance to end the game and be crowned champions of Ti3 after one of the most memorable Dota 2 matches in history.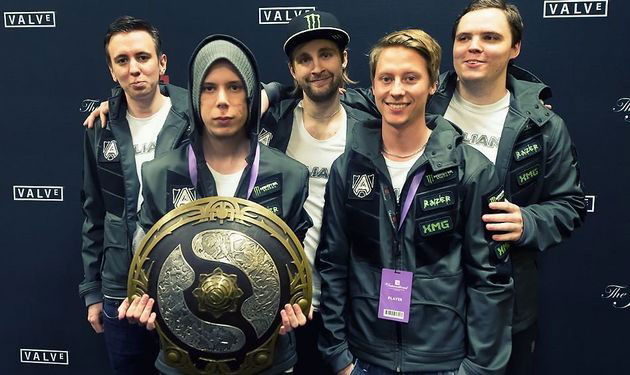 Conclusion
In conclusion, The International is a crucial part of Dota 2's esports scene, as players play for life-changing amounts of money and entertain millions of fans. These high stakes can bring out the best in these Dota 2 players, resulting in them making some of the most unforgettable plays in the game's history, which is why some of these plays happened over ten years ago and remain relevant today.