As technology moves us from one generation to the next, the world around us changes. In fact, everything around us seems to be changing on a daily basis. What's clear is that not one industry has been able to avoid major changes over the last 20 years.
A lot has certainly changed in the gaming industry. The term "gaming industry" often refers to video gaming as well as various types of gambling, including casino gambling, and sports betting. Would it be a surprise to learn that the term gaming has now evolved into a sister term? Well, what has been referred to as the gaming industry now has a sister called the "iGaming Industry."
The History of the Gaming Revolution - Video Gaming
It's hard to believe, but the very first commercial video game was created in 1972. The game was "Pong." While it did very little to capture the imagination, it did manage to bring game playing to a TV console. For the day, it was unimaginable that people could play a rather crude game of Ping Pong on their TVs.
To be fair, the first video games actually appeared in the 1950s and 1960s. Unfortunately, games like Spacewar were only accessible by early computer geeks who were looking for ways to keep themselves entertained when taking a break from their laborious programming responsibilities. When Pong was introduced to the public, it was available to anyone who could afford a game console at home.
By the late 1970s, technology gave rise to a new generation of video games. That's when games like Space Invaders, Pac-Man, Donkey Kong, and Centipede were in their heyday. In arcades all over the world, kids with stacks of coins were lining up for their chance to claim the high score of the day.
Heading into the 21st century, video gaming came to mean something very different. It wasn't long before gaming devices were in every home. Gameboys, PlayStations, X-Boxes, and Wiis were and are sitting in billions of homes worldwide. From shooter games to sports games, new games were being released every week to keep people intrigued.
Today, gaming consoles are giving way to online gaming sites. Every name-brand video game is available through some kind of subscription or streaming service. The crowning accomplishment for the video gaming industry has been the linking of multiplayer games through the internet. Players from all over the world can jump online to compete with players in other countries.
Eventually, online competition has given way to eSports. eSports is the perfect blend of video gaming and competing for huge prizes. Not to be left on the sidelines, the gambling industry even found a way for sports bettors to start wagering on major eSports leagues and events. What's next?
The History of the Gaming Revolution - Gambling
Legal or not, many forms of gambling have been around for centuries. Casino games
like roulette and blackjack date as far back as the 1600s and 1700s. As for sports betting, people have been betting on sports since the early Greeks and Romans.
Over the years, street gambling options were brought into what has become the traditional retail casino. The games of chance were the same, but gamblers finally had a formal environment they could visit to play their favourite games of chance. As time went by, game innovators came up with new ways to separate gamblers from their money.
By the late 1800s, the first slot machines appeared on the horizon. Over the next 80 or 90 years, the old-style slot machines morphed into what is generally accepted as the modern-day slot machine. For sure, retail slots have continued to evolve to the point slot players now have access to slot machines that look more like spaceships.
Perhaps the biggest shift in the gambling industry occurred at the end of the 20th century. With the internet up and fully functional, early-day software developers went to work on creating online sports betting sites. Initially, there were about a dozen viable online sportsbooks operating out of the UK and the Caribbean.
At some point, in the late 1990s, three software developers sprung into action. Their goal was simple. They wanted to create online casino games. After all, sports bettors needed something to do during the halftime of their football matches. Indeed, Microgaming, Netent (formerly Net Entertainment), and Playtech brought online casino gambling to life for a world that was looking for online entertainment options.
From the internet, sports gamblers located all over the world have been able to bet on as many as 40 different sports betting markets on any given day. Casino players have also been in their glory with literally hundreds of online casinos from which to choose. They also find themselves with the ability to play thousands of video slots that come with outrageous game formats and bonus features.
As for online table games, the choices start with standard table games like craps, roulette, baccarat, blackjack, Pai Gow Poker, Casino Hold'em, and more. Ready for this? Table game players can now play live casino games that are being streamed from gaming studios located all over the world. With live dealers and croupiers serving up the action, online casino players sit at home while feeling like they are sitting in a European live casino.
Note: The popularity of online gambling has led to the creation of responsible gambling resources like the GamStop Self-exclusion program. All licensed iGaming operators in the UK are required to subscribe to GamStop and offer their customers easy access to the program. If gamblers choose to register with GamStop to address potential online gambling problems, they are free to do so.
If a gambler registers with GamStop but decides they want to start gambling again through a UK iGaming site, they will quickly learn that casino games with no GamStop are popular across legal iGaming operators
as well as some iGaming operators that might be operating without a licence.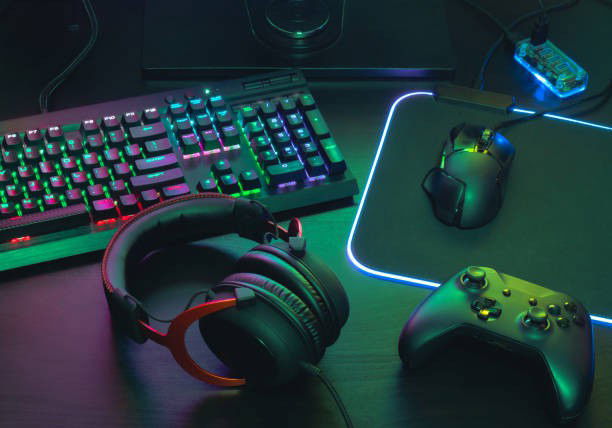 How Does the iGaming Industry Relate to the Gaming Industry?
Today, video gaming, casino gambling, and sports gambling are now being categorised under the iGaming Umbrella. The "i" refers to the internet.
The titled question is an interesting question. The answer is very simple. The iGaming and gaming industries are one and the same with two very important differences. First, the iGaming industry exists on the internet while the gaming industry exists in homes, arcades, and retail casinos located all over the world.
Second, the future is not the same for both industries. How do we know that? In the UK, the total population numbers approximately 68 million people. Of that number, there have been reports that as many as 12 million of those people have at least one online gambling account. It's a good bet that a similar amount of Brits are playing video games
online.
This indicates the iGaming industry is in its youth while the gaming industry might have seen its better days. Of course, gaming consoles and retail casinos will never go by way of the dinosaur. Both forms of entertainment offer some kind of value. However, internet entertainment seems to hold infinite possibilities when it comes to the iGaming industry. Let's look at a great example of this.
About 15 years ago, the gaming industry introduced Virtual Reality (VR) technology into the console gaming experience. All of a sudden, gamers could don their favourite VR goggles and walk into a virtual gaming experience in three dimensions. To state that it revolutionised the gaming industry would be a gross understatement.
It was never clear if the iGaming industry could capitalise on this same technology until a number of video gaming streaming services were able to incorporate the same kind of technology. That happened in earnest about 5 or 6 years ago.
What's more amazing is the fact gambling software developers have also devised a way to make the VR casino experience a reality. Yes, there are VR casinos already on the internet. Online gamblers in the UK can don VR goggles and stroll through three-dimensional casinos, stopping along the way to play slots or live dealer games.
Not to rest on their laurels, some online casino game software developers took the VR concept to the next level. They have created video slots that offer bonus features built around VR technology. These features allow slot players to directly participate in shooter and driving games in three dimensions.
Clearly, all of this leads to who knows where? While the gaming industry will always exist within its limitations, it will be the iGaming industry that captures the imagination of kids and adults all over the planet. Since there don't appear to be any kind of limitations, all we can do is sit back and enjoy the ride until gaming technology takes us collectively down another path.